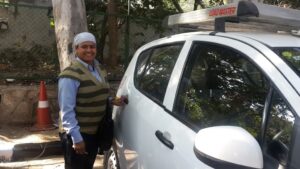 Met a woman today who blew my mind. As is my wont, I chat with cab and auto-rickshaw drivers, servers in restaurants, household help, vegetable and fruit wallahs, et al. It gives me a more holistic view of people and their lives. And it teaches me heaps.
Today, I met and chatted with Sarita Dixit who drives a Meru cab. I was frustrated with not being able to find a single OLA or Uber to get me to a important meeting, so I called Meru. I expected a male driver to call me (talk about stereotyping!) and I was lucky to get Sarita. As she drove me to Gurgaon, in unbelievably heavy traffic, we chatted. I asked decidedly invasive personal questions and she answered me with great honesty and dignity. Here is her story (almost in her own words, converted from Hindi as best as I can).
Sarita was married at the age of 16. A school girl who knew nothing of life, having really not lived life to have enjoyed it. She was married for 4 years to a man who beat her at will. She accepted that being beaten was something that just happened. If a woman hit anyone, she was called shameless. But when a man hit a woman there was no shame, so it was OK.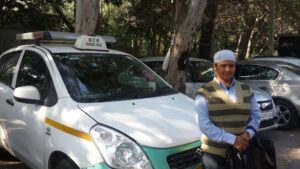 In 2012, when she was 20, her husband died in an accident. Her in-laws threw her out of the house, saying that they had no use for her or her 4 month old child. She went to live with her parents, and learned to drive. At first she did private contract driving for JNU professors and then for some NGOs. Then in 2014, she was a part of the first batch of women trained to be drivers by Meru.
She tells me that she works hard. She is at the end of a 24 hour shift (worrying, no?) She wants to earn enough to support her parents, and ensure her son has a good education. Hard work does not bother her at all.
I decide to take Sarita for coffee and a sandwich at Barista (I've had to cancel my meeting in Gurgaon due to traffic jams, and she hasn't eaten for hours). We continue to chat.
We chat about her safety as a woman driver specially in early morning and late night trips. She says she is prepared. She has learned self defense, and has a panic button in her car. She works for Meru as Meru has verified passengers. Also that the police are very supportive of women cab drivers.
The biggest detractors to her career has been relatives & neighbors and male commercial drivers. Relatives and neighbors tut-tut at her wearing trousers and working outside the house and at all odd hours. They want her to get married again. She does not want to be dependent on a man. Male commercial drivers resent a woman taking their job. Her take – its not their job. They are not as good at it as she is – so – it is her job. Let them beat her if they can!
What does she need? Sarita wants more public restrooms (she is recovering from a kidney infection caused by holding her urine for hours). She wants help to understand and utilize government schemes for the poor.
She leaves me her number and asks me to call her if ever I need a cab.
And she blows my mind away!